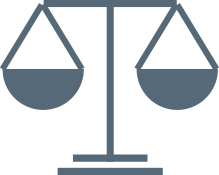 Parenti Law represents clients at every level of state and federal court. We have represented businesses and individuals in a wide variety of contexts, including complex commercial litigation, personal injury, insurance, employment law, intellectual property, guardianships, bankruptcy, family law, property and zoning, and constitutional law.
We have successfully litigated against state and local governments for violating our clients' constitutional rights. Meredith and Mark previously represented the State of Texas in litigation and on appeal, so we know the potential pitfalls of suing state and local governments. Notably, we succeeded in getting the Texas Highway Beautification Act struck down for violating the First Amendment. We have also successfully represented clients whose private property rights are being infringed by local governments.
We work closely with our clients to determine their best course of action when faced with potential or ongoing litigation or appeals.
We also partner with other law firms to assist them with motion practice, original proceedings, and appellate issues before, during, and after trial.

(281) 224-5848

(281) 605-5677

800 Town & Country Blvd, Suite 500
Houston, Texas 77024